MN Patriot Guard Online Store, MNPG Patches



---
New One Piece Backpatch ©
High Quality, fully embroidered one piece back patch in either a 9 inch or 12 inch dia. The back patch comes with a 2" x 3.25" Embroidered American Flag patch for the front of the garment. This back patch has been upgraded to follow all Military Protocols and uses the proper Seals for each Branch of the Military. Please see the Members Documents section for more information on flag placement and proper Seals for each branch of the military.
No shipment sent outside of MN, Available for sale to Minnesota Patriot Guard members only.


$35.00
Patriot Guard Riders Backpatch ©:
Choose from the dropdown either 9" or 12"

---
Minnesota Patriot Guard Logo Patch ©
This is a fully embroidered patch of the MN Patriot Guard logo. It measures 4.0" X 4.50".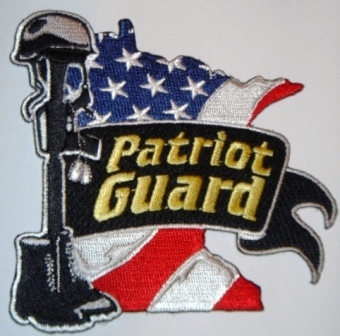 $6.00
Minnesota Patriot Guard Patch ©:
---
---
About Backpatches
Website Content: Copyright 2007 All rights reserved Minnesota Patriot Guard
Logo: Our logo is copyrighted and is owned by Minnesota Patriot Guard for its use only. The logo may not be used without the written approval of the board of directors. Any requests to use the logo may be sent to directors@mnpatriotguard.org.