$4.00
Minnesota Patriot Guard Lapel Pin (back of challenge coin):
---
Minnesota Patriot Guardian™ Bell ©
This is a high quality Guardian™ Bell. It features the MN Patriot Guard logo on the front and Honor, Dignity, Respect on the back.
Legend has it that Evil Road Spirits have been latching themselves on to motorcycles for as long as there have been bikes on the road. These Evil Road Spirits are responsible for mechanical problems and bad luck along a journey.
Legend goes on to say that by attaching a small bell onto your bike, the Evil Road Spirits will become trapped inside the bell where the constant ringing drives them insane, making them lose their grip until they fall to the ground. (Ever wonder where potholes come from?)
Legend also has it that the mystery of the Guardian™ Bell carries twice as much power when it is purchased by a friend or loved one and given as a gift.
Show someone how much you care. Offer them defense against the Evil Road Spirits! Give a Guardian™ Bell and share the Legend of Good Luck it offers to a motorcycle and its rider!
Front
Back
$11.00
Minnesota Patriot Guardian™ Bell:
---
Bead Sets
These are genuine McDonough beads, assembled right here in Minnesota by Mike and Mary.

$6.00
Bead Sets:
---
Minnesota Patriot Guard Challenge Coin ©
This Challenge Coin is struck and painted with the MN Patriot Guard logo on one side and Honor, Dignity, Respect on the other.
Note:
These Challenge Coins are not to be confused with Challenge Coins used and presented by military units. As an example a member of a military unit can challenge another member to produce it on demand or buy that person a drink or refreshment if they don't have it with them.
These coins should be treated with respect and not given out without a special reason. They are not to be presented in a public manner but quietly given to the recipient by placing it in the palm of your hand and slipping to them while shaking their hand.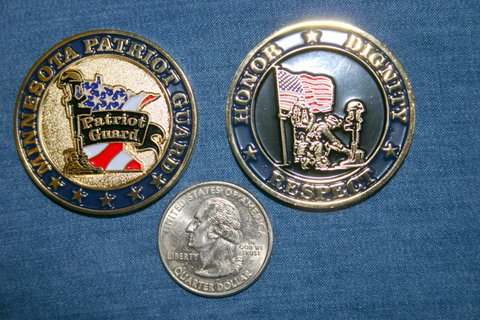 $8.95
Minnesota Patriot Guard Challenge Coin:
---
Website Content: Copyright 2007 All rights reserved Minnesota Patriot Guard
Logo: Our logo is copyrighted and is owned by Minnesota Patriot Guard for its use only. The logo may not be used without the written approval of the board of directors. Any requests to use the logo may be sent to directors@mnpatriotguard.org.